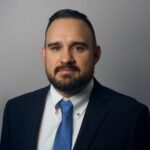 CEO, Kyle Martinez, was raised to serve others. He began working for Touch of Care as a child filing and cleaning the office. After earning his undergraduate degree from the University of Colorado, Kyle then went to work as an Agency Manager in Salida, then in Montrose. Later, he went on to further his education by earning his M. S. in Management with an emphasis in Health Care Administration from Colorado State University. Kyle is passionate about serving his community and does so by being elected to sit on the Delta-Montrose Electric Association Board of Directors as well as supporting other non-profits.
Dr. Karen Weese Bell, MD, Medical Director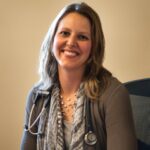 Medical Director, Dr. Weese Bell, MD, is a board-certified family physician who has a passion for relationship-based healthcare. Her professional training includes completion of four years of a five-year Nutrition and Dietetics degree prior to entering medical school. She obtained her medical degree in 2008 from the College of Medicine, University of Saskatchewan, Canada. She completed her family medicine residency at West Winds Primary Health Centre in 2010 with a focus on full-scope, rural family medicine including additional training in palliative care. In 2015, she and her husband relocated to Colorado where Dr. Weese Bell opened her own small primary care practice. Dr. Weese Bell enjoys taking care of people through all the stages of life. She joined Touch of Care Hospice in April 2019. She firmly believes in the home hospice model for end-of-life care and is committed to providing high-quality services as part of the interdisciplinary hospice team.
Christal Santana, RN, Director of Professional Services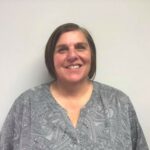 Director of Professional services, Christal Santana, was born, and has lived the majority of her life, in Western Colorado.  She raised five children here, and has eight grandchildren. Christal has been in Nursing for twenty-six years. She spent her first eight years as an L.P.N., and eighteen as an R.N.  She has spent the majority of the second half of her career working with our older population, and in home care settings. Christal has been involved with hospice, ranging from working directly in our clients homes, to management roles. Christal also holds a medical translation certificate and is fluent in Spanish. 
Rebecca Langley, RN, Assistant Director of Professional Services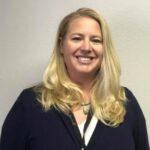 Assistant Director of Professional Services, Rebecca Langely, grew up in Iowa as a farm girl raising horses, cattle and corn.  She then moved to Colorado in 2007 to train horses. Rebecca enjoys living on the Western Slope with her husband, two children and horses.   She started her nursing career at Montrose Memorial Hospital helping mothers deliver babies and postpartum care after graduating in 2015 from Colorado Mesa University with her RN.  She followed her experience with a move to Touch of Care as a Health Care Professional – RN,  supervising In-Home Support Service program which has also come with the opportunity to join an amazing team of professionals, all with the same goal of helping our patients at the end of their lives with Touch of Care Hospice. 
Kathleen Martinez, Volunteer Coordinator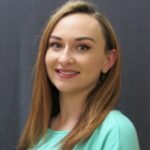 Volunteer Coordinator, Kathleen Martinez hails from an Air Force and medical family. The Air Force sent her family around the world which allowed her to graduate high school in Germany. Kat shares a special place in her heart for veterans and their families. She obtained her bachelors degree in Agricultural Business from Colorado State University but quickly found her way back to health care in 2015 with Touch of Care. Kat is passionate about giving back to her community and serves on a few different non-profit boards in the area. In her free time Kat enjoys showing her horses and spending time with her one year old daughter, Elizabeth, and husband, Kyle. She is honored to serve her community in their greatest time of need through Hospice. 
Catherine Vallejo, Social Worker/Chaplain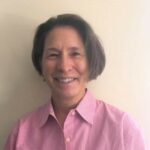 Medical Social Worker, Catherine Vallejo, is an experienced Licensed Clinical Social Worker who is passionate about her work and wants to help others improve their lives and their relationships. With decades of work in the areas of high conflict couple and family relationships, domestic abuse, child abuse, anger management, grief, and bereavement, she is eager to help families and individuals achieve the life and relationships one desires in their journey.  Catherine graduated with her BA in Psychology in 1980 and Masters in Social Work in 1996, having over thirty-nine years of diverse experience, with twenty-three years especially as a Clinical Social Worker.  She is licensed in both California and Colorado.
Tom Smith, Medical Social Worker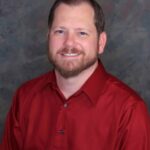 Medical Social Worker, Tom Smith, is a Licensed Clinical Social Worker who graduated from the University of Nebraska with a Master of Social Work degree. He has called Montrose home since 2011 and has worked in the palliative and end-of-life care field for over ten years. He has a passion for working with individuals and families during this time in their lives. In addition to social work Tom has experience as a grief counselor, palliative care educator, advance care planning advocate, community organizer, and public speaker. Tom believes in the mission of Touch of Care and is happy to be part of the team.